Success Stories
Since I have been a P90X and Beachbody Coach since 2009, I've had the opportunity to help motivate many people to reach their fitness goals.
Click on any of the names to the right to read a specific success story or scroll through the list to read each one individually.
Enjoy each story as you learn the challenges different people have overcome in order to achieve better physical fitness. It has been an honor to coach each of them to success!
If you are interested in changing your body, I can help you, too. Contact me directly or visit my free fitness coaching page to learn more.
P90X & Insanity Success Story: Brad Hall
"LOST 10″ OFF WAIST WITH P90X & INSANITY"
Brad Hall, after P90X + Insanity
.
BRAD'S STORY
Growing up I was always active and considered the "skinny kid". Once I got to college I put on some weight. Over the course of 10 years I put on a lot of weight and multiple inches around my waist. I had high cholesterol, severe heartburn that kept me up at night, and seemed to constantly be sick.
August 2010 I volunteered to become a RA Leader at my church (RA = Royal Ambassadors). Royal Ambassadors is similar to the Boy Scouts. My son was just starting the 1st grade and wanted to join. I figured it would be a great time for us to spend time together. It was thru my RA's at church teaching them the RA Pledge that God convicted me of my obesity and health problems at age 34. The last line of the RA Pledge is "to keep myself clean and healthy in mind and body". I couldn't lead those kids by just talking and not really living like the motto stated. It was time to walk the walk. I have 3 kids and a wonderful wife and it was time for me to start doing something to improve my health not just for me, but for them as well. I want to see my grandchildren get married and enjoy every minute with my kids.
The results I achieved using P90X, Shakeology and Insanity have far exceeded anything I would have imagined and honestly are nothing short of a miracle. If it were not for God working thru my RA's to convict me of my weight/health issues I might not be here today. I've lost a total of 52 pounds and 10 inches off my waist thanks to Beachbody products. Even in High School I could not achieve the level of fitness that I've been able to reach now with P90X. Growing up I was always skinny and never had any muscle definition. Now I have muscle definition and I'm helping others to reach their goals.
Getting healthy and in the best shape of my life is allowing me to truly feel like I am living. My constant heartburn is gone, cholesterol is normal and I've not been sick in a little over a year. The achievement that I'm probably most proud of is that my kids no longer tire me out. I can keep up with them and run circles around them. Not only has P90X changed my life, but it's changed my family's as well. My kids (8, 5, and 3) will workout with me and they are learning thru my example how to live a healthy lifestyle.
~ Brad Hall, Insanity Success Stories
[button_red iconlink="" url=http://www.google.com]Appoint Nick Husin As Your Coach[/button_red]
.
.
P90X Success Story: Cory Bradburn
"FROM 153 LBS AT 15% BODYFAT TO 160 LBS AT 7% BODYFAT "
Cory Bradburn, Day 1 vs Day 180 of P90X
.
CORY'S STORY
I started P90X in May 2010 in the worst shape of my life. One year out of college, I had neglected my body while working and studying for the MCAT. The minimal weightlifting I did in college had completely disappeared, and I was skinny and fat all at the same time. I had long lanky limbs and a gut with no definition. I knew I needed to treat my body better by making smarter decisions with my nutrition and exercising more regularly. So I set out on a mission to change my physique. I ate clean, and worked hard on transforming my body. By the end of the first round, I had gotten rid of the flab and I was cut. Since then, I have been working hard to gain muscle mass.
The combination of P90X, proper nutrition, and the right supplements has transformed my body and my mind. I have been so impressed with my results that I have dedicated my time to helping others achieve their goals. I want to help you feel the empowerment that comes with achieving a goal and accomplishing a workout program. Cory Bradburn
What do I bring to the table as a coach? Well, I want you to realize you can turn your life around. You can decide to conquer a workout program. You can commit to living healthier. And when you have a euphoric moment during your program, you will realize that not only can you set goals, but also achieve them. This is when I know I will have done my job. I want to help you succeed in your physical, mental, and emotional transformation!
I became a Beachbody Coach because I care so deeply about helping people achieve a goal and making you realize you can use these workouts as a tool to guide your life to a better place. You can be happier. You can change your life. I have watched hundreds of success story videos and read blogs and testimonials from so many people who believe so much in these programs because they have made a difference in their lives. That's why I put my heart and soul behind Beachbody's products and what the company stands for. P90X has transformed me. Physically, yes. But more so my connection with my mind and body, and the true belief that I can achieve what I dream in life. Cory Bradburn
If you asked me a year and a half ago (before I started P90X) whether or not I really thought I could make a difference in someone's life, I wouldn't have been able to give you an honest answer. Now I know I have that ability, and that I'm already starting to make a difference. All I wish to do is help you do the same. It could be the best decision you ever make.
~ Cory Bradburn, P90X Success Stories
[button_red iconlink="" url=http://www.google.com]
Appoint Nick Husin As Your Coach
[/button_red]
.
P90X Success Story: David Yeager
"SKINNY AND BUILT LEAN MUSCLE MASS"
DAVID'S STORY
Growing up I was a very active kid. Like a typical kid a rarely ate anything that would be considered a healthy diet. My major food groups consisted of sugar, fat and salt, preferably all mixed together, and I still didn't gain an ounce. Fast forward a little bit into high school and the eating habits didn't change much, I was still eating a lot of junk food, but I was still very active in sports. Well, like most people after 18 years of bad eating habits and an active lifestyle I graduated high school, to begin my NON active lifestyle, but not wanting to be a total quitter I continued my horrible eating habits.
Being a hard gainer I didn't gain that much weight over the next few years, but the weight I did gain was all in the wrong spots. You've seen the type I'm sure. Skinny guys with hardly any upper body mass, small shoulder and a gut. Granted my gut wasn't that big but on a skinny guys frame it looks just as bad.
Eating lunch at work one night in the break room I caught a p90x infomercial. I remember thinking to myself (I can get ripped in 90 days!?) Who doesn't want that? I didn't order the program right away, but night after night I would see the same infomercial and every time I would see it I told myself the same thing, I can do that. Finally I decided to order the program. It had been a long time since I worked out and the idea of working out at home, only needing some dumbbells and tv seemed like the perfect solution to getting back in shape.
The first time I started P90X I made it through about 4 days, and I was so sore that I could barely straighten my arms. I had to quit and let my body recover. A couple weeks later I started again and made it through about 5 weeks of the lean program before I got busy doing other stuff. Throughout the next 2 years I would start and stop, never committing myself to the workouts and not paying much attention to my nutrition.
At the beginning of 2010 I made a decision to recommit myself to myself. I wanted to get in the best shape of my life and the only thing stopping me was me. I work in a profession where on any given day I could find myself in a situation where my physical fitness will be the determining factor on whether or not I go home safe to my family, and that's all the motivation I needed.
I finished 2 rounds of p90x in 2010 putting on about 15 lbs of lean mass and cutting my body fat %. I am by far in the best shape of my life. I have accomplished more with P90X In this last year than I did during my whole highschool career taking weight training. I've gone from not being able to do a single wide front pull up when I first bought P90X to now I can do pull ups all day long as Tony says.
The truth is I can talk all day long about how great P90X is, but I don't need to. The proof is in the pictures.
People always ask if they need to take the supplements. In order to get the best results and the most benefit out of your workout you need to nail your diet. The supplements are there to help you do that, hence why they are called supplements. Do yourself a favor and take advantage of the money back guarantee on the recovery drink and the shakeology. You'll find it's money well spent, I did.
~ David Yeager, P90X Success Stories
[button_red iconlink="" url=http://www.google.com]
Appoint Nick Husin As Your Coach
[/button_red]
.
P90X & Shakeology Success Story: Dustin Rath
"BURNED FAT & BUILT LEAN MUSCLE MASS WITH P90X & SHAKEOLOGY "
Dustin Rath, Day 1 vs Day 90 of P90X
.
DUSTIN'S STORY
I have been, for the most part, skinny all my life. I wasn't particularly fond of sports. In fact, I spent most of my childhood, and a good deal of my adult life playing video games. Yep, total nerd here. And boy, being skinny and out of shape sucked! My older brother was super in shape, fit, big biceps, body builder type dude. And I was constantly asked, "Why is your brother so big and you are so small?"; to which I would snidely reply, "Gotta be steroids." Play it off cool… Truth was, I was always jealous of how my brother was in really good shape; and it pissed me off every time someone asked me that question. Dustin Rath
I have been working on changing that the last couple years. Started with just lifting weights and going to the gym. I didn't really know what I was doing in the gym. I didn't know anything about nutrition. Also, I was constantly getting sick. I would be out of commission, and the gym for weeks at a time. Turns out, my body was constantly fighting an infection. My tonsils were keeping me from being healthy. I got my tonsils out in February 2011. During the recovery, I lost a lot of weight(~15 lbs), weight I didn't think I even had to lose. I dropped down to 183 pounds at 6'4″. I looked emaciated. I decided that I really wanted to change my body when I got healthy again. Dustin Rath
I came across P90x when researching fitness programs. I watched transformation stories on Youtube and came across some INCREDIBLE results. So, I decided to try P90x out. I wanted to learn how to work out correctly, get results, and learn how to eat. So, the transformation started on 5-22-2011.
~ Dustin Rath, P90X Success Stories
[button_red iconlink="" url=http://www.google.com]
Appoint Nick Husin As Your Coach
[/button_red]
.
P90X Success Story: Jason Pinckney
"GAINED 21 POUNDS OF MUSCLE IN 90 DAYS "
JASON'S STORY
I started this program as an unhappy 35 years old with 18 years of military career. I was always considered unusually underweight. I had seen several physicians and nutritionists and was told the same thing every time – "Well you're not sick, and you're not injured, it's just that you have a fast metabolism which is why your body is really thin".
I could accept "thin" or slender but at the time I sought help I was weighing in at 132lbs at 6' 2 ½". That wasn't normal to me by any means, and it wasn't what I wanted. People would say that it was a blessing to be my weight and tell me not to worry, but I knew that wasn't healthy. I was averaging around a 9 to11 on Body Mass Index, which was well below the healthy norms. I knew that my energy levels were not what they should have been and I wanted more. The final straw was to have a fellow High School Alumni contacted me on Facebook and told me that it was easy for him to find me since I was the same skinny kid he knew in High School. I set my mind that I was not going to my 20 year reunion looking the same as I did when I left High School.
I had heard of a workout called P90X, which had peaked my interest. So my journey to discover a fix had begun with a destination. I logged into the Team Beachbody website and started sifting through success stories. I couldn't read them all, but I was determined to try. I was looking for that one thing that would tell me that the program was a hoax, looking for that excuses to go back to just doing what I had always done which was to be unsatisfied with my weight and do nothing about it. Well after a long search through the tales, I can happily say I didn't find what I was looking for; there was nothing I could find to tell me that P90X couldn't do what it claimed.
So I hopped on the message threads and asked if anyone could tell me if P90X could help me gain weight since most people seemed to use it to lose weight. It took no time at all before someone directed me to Nick's profile and message thread. I read through every portion of Nick's success and realized that he had further to go to reach his goals than I did, and he did so with flying colors. I figured if he could do it why not me. Shortly after that I was ordering P90X and prepping to push play. The first week killed me; I was sore for several days and barely able to breathe. After that, things just seemed to get easier. I was finishing up my work days just waiting to get home and do my workouts. I was scheduling things around my workouts to make sure I did not miss them. I was doing what I never thought I would ever do and that was ENJOYING my workouts.
Day 1 I weighed myself in at a 138 lbs. Well Day 30 rolled around and friends and family were making comments about my arms and back, didnt think much of it till I stepped on a scale. I had made significant gains. Day 60 arrived and I even noticed myself I was finding the workouts a little easier and noticing more definition in my body. By the time Day 90 hit I was hooked as one could be and looking forward to more. When Round 1 was complete I had very noticeable muscle definition and was weighing in at 159 lbs. I had made a 21 lbs increase in lean mass and was loving life. My motivation is high, my morale was never better and I plan on "Pushing Play" over and over.
~ Jason Pinckney, P90X Success Stories
[button_red iconlink="" url=http://www.google.com]
Appoint Nick Husin As Your Coach
[/button_red]
.
P90X Success Story: Jason Powell
"FROM FLABBY TO FIT"
JASON'S STORY
My story is very much like many men my age. I was in good shape most of my twenties and stayed pretty active. I always had a thin build growing up. When I started to put on weight in my late twenties, it was welcomed!! I continued to slowly put on weight, again, it was welcomed. It was right after Christmas of 2009 when things started to get out of hand. From December of 09 to May of 2010 I had gained 50lbs putting me at the largest I have ever been! 220-225lbs and in very poor shape. I started to notice that I was tired all the time, I would get sick easier, I was also down to very little clothing due to the rapid weight gain!! That was not enough for me to make a change though.. The drive to change came Valentine's Day 2010.
My wife bought me a few gifts, some were new clothes. I tried on the shorts she had bought me and neither of them fit, they were all too tight. I can still remember how mad I was at myself. They were size 34's and I could not even button them up!! We had to go back to the store and I ended up with 36- 38's depending on the brand. I knew I had to make a change! I started to look for a program but had no idea what to look for. Somehow I stumbled upon the P90X site, it sparked my interest. Not being sold on the before and after images they show, I did further research. I found numerous videos on YouTube. I saw real people with real results, real stories, I was SOLD!!
I started the program with my wife in May of 2010. I can honestly say P90X is the most demanding workout routine I have EVER tried! The first 30 days were brutal with very little gains in muscle or fat loss. Feeling discouraged, I started to look for other programs on the Beach Body forums. I stumbled upon Nick's thread, I was very impressed with his progress and drive! I joined the group and reluctantly posted up my current 30 day picture at his request.. He shot me straight, he was blunt but he told me what I needed to hear!!! With his diet plan, workout tips and my determination I lost a total of 50lbs and am in best my life! Nick pushed me to make the workouts harder every week, lift heavy and bring it! I would have NEVER thought in the beginning I would try to make the routines harder. I now use a 40-50lbWeighted vest for push-ups/pull-ups and ankle weights for abs excesses. He also got me hooked on 5X5 bench pressing and squats to add mass! I feel phenomenal, my overall health is so much better. I can do things I have not been able to in years! I took 8-10 years off my age. What a great feeling entering my 30's in July! From here I plan to keep at it, I would like to add 10-15lbs of muscle. No easy task but time is going to pass regardless so I might as well spend it staying healthy and fit!
~ Jason Powell, P90X Success Stories
[button_red iconlink="" url=http://www.google.com]
Appoint Nick Husin As Your Coach
[/button_red]
.
.
P90X Success Story: Jill Bradburn
"FROM SIZE 12 TO SIZE 4 "

JILL'S STORY
One day, about a year or so ago, I looked in the mirror. I was bursting out of a size 12, and I didn't recognize myself. "Is that me?" I wondered. This was the last straw! My husband and I had been fighting a court battle to keep land for his job, and it took its toll on my health. I refused to let myself get to a size 14. NO WAY! But how and where would I begin. Low and behold, this was around the same time my son was coming home for the summer. At first I thought "great, homemade cookies, cheesy lasagna, I'm sure he's missed my home cooking." I could not have been more wrong. He had started a new eating and exercise plan called P90X. He was bound and determined to follow the regimen, so we all decided to join in. Boy, was I in for a shock! I thought one change at a time. Umm, not so much… yes, I would be cooking but in a new healthy way. We cleaned out our pantry, changed our eating habits, and I began P90X myself. At first I thought there is no way I'll ever get through this, or that I'll even like it. I remember the first time I pressed play for Yoga. I had to put my son on speaker phone to get me through it I wanted to stop, he said "come on you're almost through the hard part." Eventually, by the fourth week, I could not wait for my daily dose of Tony-isms and a good sweat. I was transforming in a way that I didn't know was possible .
Suddenly, my belly was shrinking , my thighs were getting some definition, and my arms looked 10 years younger.
"HELLO ME! THAT'S WHAT I REMEMBER!" The best part for me: my "gobbler" (you know, that flabby section under the jaw line) was gone. I had considered surgically removing it, but now I didn't need to: it was no longer visible. Fast forward one year later… I am now a happy size FOUR. I share my fifteen year old's closet! I have not needed a doctor visit and have avoided many illnesses that I am exposed to from teaching pre-school on a daily basis. When I take my 4 and 5 year old kids out to recess, I am the only teacher that runs and plays tag with them, hangs and stretches from the monkey bars, and goes home to my "clean kitchen" looking forward to my next meal, and my next work out. I did not think I could lose weight and inches at my menopausal age, but I did. I encourage everyone to try, and not to give up…
If I can do it, so can you. Stay patient and set your mind to it. You'll be glad you did.
~ Jill Bradburn, P90X Success Stories
[button_red iconlink="" url=http://www.google.com]
Appoint Nick Husin As Your Coach
[/button_red]
.
P90X Success Story: Joe Dafcik
"OVERWEIGHT AND TRIMMED DOWN TO A MUSCULAR PHYSIQUE"
Joe Dafcik, Day 1 vs Day 180 of P90X
d
JOE'S STORY
I used P90X to lose over 100 pounds and did it right from the comfort of my own home, never needed to step a foot in the gym! I am convinced if I can do it so can you. It doesn't matter if you just want to lose a few pounds, get ripped, or just get healthier.
I started using P90X a few years ago, after serving a tour in Iraq with the U.S. Army I came home in 2004 and ate like a pig. I think it was a combination of stress and just being able to eat normal food again…. whatever it was I pigged out and woke up one morning almost 280 lbs!!! I knew I needed to do something and since I was in great shape before I also knew that running on a treadmill or doing the same old routine in the gym gets old in a real hurry. I wanted to mix things up and have a lot of routine options to use.
I ordered P90X and started my first round. I got pretty good results but wasn't using the recovery formula…. big mistake. Take it from me, you see my photos. I must know a little about what I am doing… you need the recovery formula. My next round was awesome. I stuck to the diet very strictly and was able to lose about 100 lbs!!! This program works. I decided to sign up on the Beachbody website where I met Nick. The guy is awesome. He gave me so many useful tip on diet and how to adjust the program just a touch to get my best results. After following Nicks advice, while going on Shakeology, the recovery formula, and the creatine from Beachbody you can see the results of my next round of P90X.
You may be saying to yourself… "Hey I can do this program… I don't need all the extra supplements and all that stuff." Again.. take it from me…. you see my results. The supplements are there for a reason, you need them. They helped me get bigger and stronger then I have ever been in my entire life, all while dropping my body fat to about 7%. Even if you never want to be ripped or have a rockhard body, get P90X. Do it for your health and your family it works. My cholesterol was through the roof when I was at my worst, I had a fatty liver and was on the road to an early death at the age of 24. Now my doctor can't believe the difference. I did a complete 180 and never had to go on any meds to do it. Like I said you owe it to yourself and your family, get in shape, live a longer healthier life, and be around to play with your great grand kids.
Nick can and will help keep you motivated and help you through any struggles you may have, again look at my picture… he helped me get here and he will help you too!
~ Joseph Dafcik, P90X Success Stories
[button_red iconlink="" url=http://www.google.com]
Appoint Nick Husin As Your Coach
[/button_red]
.
.
P90X Success Story: MT Johnson
"FROM 186 LBS AT 14% BODYFAT TO 173 POUNDS AT 7% BODYFAT"

MT Johnson, Day 1 vs Day 180 of P90X
.
MICHAEL'S STORY
I had always kept myself in shape. I was always athletic in high school, played multiple sports and continued to stay in the gym throughout my 20's and into my 30's.
After a series of events including the loss of my grand father, my son being diagnosed with Autism, my father with cancer, and myself with an anxiety disorder – I threw in the towel. I stopped caring about how I looked or felt physically. I quit going to the gym, I began to eat poorly and quickly put on weight and became lethargic and unmotivated. My self esteem was at an all time low. Michael Todd Johnson
After the holidays were over I was getting ready for work and looked at myself in the mirror. I mean REALLY looked. I didn't recognize what I had become. I didn't feel like myself, and certainly didn't look like myself. I took a picture right then with my phone as motivation to make some changes and started making plans to get back to the gym. After calling a friend of mine to see if he was interested in going back to the gym with me, he informed me that he was doing a different program and he would "never go back to the gym again". When he told me it was p90x I honestly laughed and said "the workout at home program?" I told him to look me up when he wanted to do a real workout again.
He did me one better than that. He showed up with copies of chest and back and legs and back. He told me to do either of them and let him know if I still thought it wasn't a "real workout".
I have always been skeptical of workout at home programs. I thought they probably weren't bad for some cardio but believed I couldn't get a "Real" muscle building workout program at home. After trying chest and back I was hooked and knew this was something different . I made a pact with myself to give it 30 days and push play every day. After 30 days if I didn't like to results at least I would be in better shape to start at the gym. This is how it all began. Michael Todd Johnson
After two full rounds of p90x, I couldn't be more happy with the results I have achieved. I know there are more people out there like me that would be skeptical of this type of program and I was so happy with the progress I made that I wanted to share with others what this program could do for them.
My self esteem has improved dramatically. I am in better shape than I was in my 20's and I look forward to BRINGING IT everyday. P90x has given me my health and "myself" back!
~MT Johnson, P90X Success Stories
[button_red iconlink="" url=http://www.google.com]
Appoint Nick Husin As Your Coach
[/button_red]
.
.
P90X Success Story: Rhianna Troquille
"LOST OVER 94 POUNDS!"
.
RHIANNA'S STORY
By using Beachbody products for the past two years, I have lost over 94lbs . In September 2007, I saw a picture of myself that made me feel so disgusted! I couldn't believe I had let myself gain that much weight during college. After losing my nephew and Dad, I became an emotional eater. I weighed in at 235 & was a size 14/16. I was always active & worked out but staying up late, college parties, & not eating right packed the weight on fast. I was so tired of shopping and never finding anything cute to wear and everything was always too small. Right then, I decided that I had to make a change to become fit & happy. It has been my life-long dream to pursue a career in Marketing Fitness so I decided to start practicing what I preach. I started with Hip Hop Abs combined with healthy eating habits & immediately dropped inches. Then I completed P90x & Insanity 3x.
Today, I train like an animal and eat what nourishes my body.
I have dropped 7 inches in the waist, 23 inches overall & at a size 6!! I feel better now than I did in highschool. I have come a long way but still ready for some more challenges! Since my transformation, I decided to finally put my long awaited business plan into action and open my own Fitness Studio! As the owner of BodiesXtreme, it is my ultimate goal to share my story with the world & inspire everyone to become healthy & beautiful in their own skin! If I can do it, ANYONE can! FITNESS IS MY DNA!
[button_red iconlink="" url=http://www.google.com]
Appoint Nick Husin As Your Coach
[/button_red]
.
FOLLOW RHIANNA!
.
.
Insanity Success Story: Alex Haas
"GAINED LEAN MUSCLE MASS WITH INSANITY"
Alex Haas, after a round of Insanity + Asylum
.
ALEX'S STORY
Coming into college 4 years ago, I wasn't really leading the healthiest life. I had gotten into the habit of staying up really late playing video games, eating junk food, and drinking mountain dew like no other. I started doing some weight lifting in high school, got some mass in an effort to boost my self-esteem a bit, but video games were always a comfortable escape where I could be in a place that was judgment free. Fast forward to the summer before senior year of college: I had started leading a more healthy lifestyle, keeping in shape mainly through playing Ultimate Frisbee and weight lifting, but had been talking to a friend who had completed P90X and gotten in really good shape. I figured I would try it to help improve my Frisbee game. So I got into P90X and really enjoyed, but once I got back to school and Frisbee started up again, I ended up having to take time off because of injuries and finally left my fitness to Frisbee and free weight lifting. Alex Haas
About half-way through my final semester, I started seeing a girl who was very athletic and really into fitness, eating healthy, and working out. She had completed Insanity a summer ago, and we decided to just start doing a workout from that each day for fun. I had also been in contact with my friend who got me into P90X (and by this time had completed a few rounds of P90X, Insanity, and his own hybrid). He had also been encouraging me with my Frisbee conditioning, these new workouts I was doing, and eating better. Now I was hooked. I loved doing the Insanity workouts, and the motivation from my friends was great too. I felt great, I was seeing results each workout, and I could see my cardio strengthening. My mentality also improved. I was able to dig deep in each workout, as well as on the field during Frisbee tournaments. Alex Haas
Then, I moved on to Asylum since it was new and one of my friends was also going to start it. I decided on the Asylum, figuring it would help boost my cardio, improve my Frisbee game if I got the chance to play again, and really tone up my muscles. Alex Haas
After 30 days of THE HARDEST workouts I have EVER done I had lost 7 lbs, 2.3 % body fat, gained muscle mass in my chest and legs, toned up my body, and improved my cardio to places I could only dream of before. I was/am astounded. I feel great, I look great and it's all because of the work I put into this. It has truly been a life changing experience for me, and something I'm not going to stop doing. I'm looking forward to helping you reach any goal you set for yourself, no matter where you're at. It's not about where you start, but how you finish.
~ Alex Hass, Insanity + Asylum Success Story
[button_red iconlink="" url=http://www.google.com]
Appoint Nick Husin As Your Coach
[/button_red]
P90X Success Story: Mike Rage
"LOST 20 LBS, 16% body fat & 7? INCHES OFF WAIST IN FIRST ROUND OF P90X"
.
MIKE'S STORY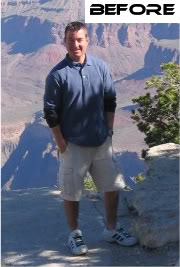 So… here is my story. Just a normal guy really with so much in common with many of those reading this post. Growing up I was considered a hardgainer forcing myself to eat multiple times a day just to maintain my weight… I was 100 pounds in my senior year of high school! Yeah, I was scrawny. I was then recruited to play sports in college and continued the hardgainer lifestyle from intense training year-round. That was until I tore the ACL in my knee during a game, requiring patella tendon reconstructive surgery. My once active lifestyle slowed considerably while I was confined to a bed for essentially one month after the surgery with light rehab. Of course my metabolism slowed as a result and I lost muscle definition and gained a significant amount of weight. Fast forward to graduate school several years later where I was studying to get my Ph.D. in Engineering… so much studying in fact that I continued to put on weight. School was stressful. I tried to become more active by playing sports in the university recreational program, however, my efforts led to another ACL tear, this time in my "good" knee. I also had another cartilage / meniscus tear in my previous bad knee. I attributed all of this to being in poor shape. FRUSTRATED, I GAVE UP…
The good news is that I finished my Ph.D., found a good job out of school and met my wife in the process. I was overweight but had a promising future. My new job required significant travel though. Exercise and good nutrition were not much of a consideration anymore. Once we purchased our first home my free time was non-existent. And of course my knees and lower back were in constant pain.
I suppose I owe this transformation to my wife… she had always wanted to run a marathon and, as such, signed up and started to train. I was proud of her. We were out of town one morning in Arizona for a friend's wedding and she went for a 7-mile run at high elevation while I stayed in bed and watched TV on a beautiful Saturday morning. I wanted to do something to improve my lifestyle but didn't know what. I certainly was not going to run a marathon with my bad knees… AND THEN HERE COMES THE P90X INFOMERCIAL! I think we all remember the day we first saw the P90X infomercial. Too good to be true, right? Well I did a lot of research and concluded that this program was NO JOKE and requires actual hard work to bring success. Exactly what I needed.

Fast forward to today… Multiple rounds of Beachbody® programs later and I am in the best shape of my life. Yeah, it's hard, but the results will follow. The BEFORE picture above was taken at the Grand Canyon on the day I decided to commit to P90X. I was good at hiding the weight. I lost 20 pounds, 16% body fat and 7? inches off my waist in my first round alone. I am much stronger and no longer have pain in my knees. P90X has strengthened the muscles surrounding my repaired ACL ligaments and provided much needed stability to the joints to function properly (Plyometrics anyone?). I have committed to, at the very least, a new round of P90X each new year.
This is my story, and I thank Beachbody® for the experience. Join me as I continue the journey!
BRING IT!!
~Mike (Rage9498), P90X Success Stories
[button_red iconlink="" url=http://www.google.com]
Appoint Nick Husin As Your Coach
[/button_red]
FOLLOW MIKE!
P90X Success Story: Shaun Moylan
"FROM 184 LBS AT 17% BODYFAT TO 165 LBS AT 5% BODYFAT"
Shaun Moylan, post P90X + RevAbs
.
MY STORY
I was never a big or larger guy. I was the scrawny one in high school. I graduated weighing less than 130 lbs. I joined the military and was finally able to put on some weight. I think I managed to put on 35 pounds in the first two years. After that I became very content and lax in my lifestyle. Going through a divorce didn't help much either. I was drinking every night and eating terrible and ended up putting on another 20 lbs on top of that. So there I stood 5'8" tall at 184 lbs. I looked at myself and just was not happy with what I saw so I made the decision to make a change. Shaun Moylan
I started going to the gym but didn't know much. I started taking to people who worked out and found a partner to help keep me motivated. Then one day at the gym on base I saw that they had this P90X class going on. I decided to check it out and it was the best decision I have ever made. The workouts and program was intense and the muscle confusion definitely made a difference in the growth and weight loss, I was hooked! After that I got word of Insanity and gave that a try, and was again impressed by the results I had achieved. I continued on, seeing the results made me want more and to see exactly how far I could take my body and what I could achieve. I use the Rev Abs program to get ready for shows along with weightlifting and supplementation. I use Shakeology to help cut down for the shows and love that now I get the chance to help others achieve their fitness goals. Shaun Moylan
I am currently an NPC Bodybuilder and Physique competitor and am continuing to reach towards the next level, competing at nationals. I am currently going to Polk State College for my degree in Athletic Training. I look forward to helping you achieve your fitness goals and getting you the body you always wanted.
~ Shaun Moylan, RevAbs Success Stories
[button_red iconlink="" url=http://www.google.com]Appoint Nick Husin As Your Coach[/button_red]
.
You can also visit my Beachbody Coach page if you want to connect.
.